Welcome to SHIBIRANKA INN Kakeroma.
Time passes slowly as your relax in the natural surroundings of wonderland Kakeroma.
SHIBIRANKA News and Offers
SAVE KAKEROMA and DEFORESTATION : for more details and signature collecting campaign
Unlimited Ride BUS tickets offered by Shima Bus co.ltd.
Peach Aviation flights from Narita/Kansai v.v. Amami Oshima as LCC
Let's enjoy new low fare!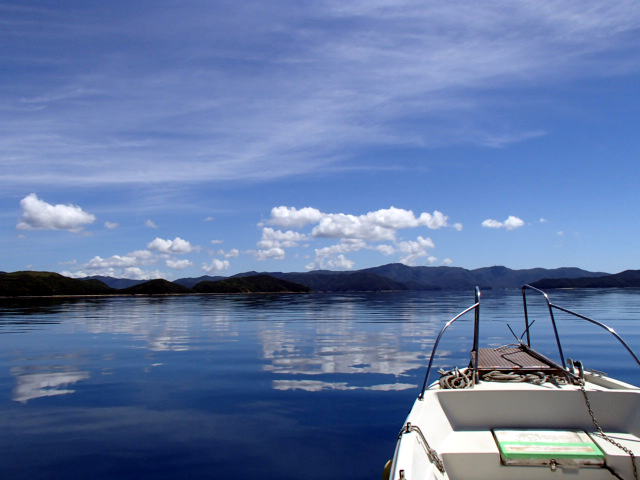 We are located on Kakeroma Island which is one of the Islands of Amami O'shima, 787 miles south of Tokyo.
Kakeroma is an extremely scenic and tranquil island which boasts beautiful natural surroundings while maintaining its own ancient culture and traditions. By visiting Kakeroma you will rediscover the real and beloved homeland of Japan.
In addition to the exquisite local cuisine, visitors to the island can enjoy delightful local folk songs, called Shima-uta, whose charming sounds fill the listener with happiness. Kakeroma's wonderful ecology and island culture will be certain to leave you with an unforgettable impressions. Kakeroma offers you the unique chance to discover mysterious and beautiful natural wonders, as well as an opportunity for and exciting exploration of our rich and diversitied marine world.






The word Shibiranka is derived from ……..
"SHIBIRANKA" whose Chinese characters (kanji) are interpreted as meaning "God of the Polar star who descends from a Galaxy riding on a sedan chair." This word has its origin in a traditional legend of Taoism.
In this legend from ancient Chinese history, there was , once upon a time, a devasting fire which an entire village. A house which had the word "SHIBIRANKA" written on a wooden board put in the ceiling had been saved from the big fire.
This legend from China has had an influence on the Okinawa and Amami Islands area. People here believe that this is a lucky word and that God protects newly built houses and brings happiness to the people.
Information and contacts
Information
Check in time :      from 15:00pm
Check out time :    by 10:00am
Breakfast :           07:00am to 09:00am
Dinner :               06:30pm to 08:30pm
ALL NON-SMOKING rooms and dining area.
NO-TV set available due to enjoy beauty of natural surroundings.
Free Wi-fi available.
Room key available on demand.
Payment : Please pay by cash or major credit cards on day of departure.

Contact
address
193-1, satsukawa, setouchi-cho, oshima-gun, kagoshima, Japan
zip 894-2402
phone/fax +81-997-75-0628
E-mail : shibiranka@samba.ocn.ne.jp *Outside Japan residence only*
Facilities
Futate(angel fish)

Twin bed room for 2 adults

Abasu(balloon fish)

Twin bed room for 2 adults

Kashabura(tropical fish)

Japanese room (6 tatami) 3 adults
Free Wi-fi internet access is available.
all rooms are equipped with an air conditioner, shower-toilet and powder room.
Other available amenities include ; hair dryer, bath towel, hand towel, and toothbrush.
bathing room
the bathing room is shared by all guests and there is a hot water shower available outside.
max 3 adults available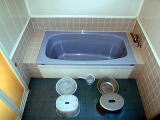 outside shower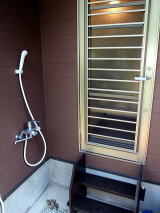 Fare and Activities
Room charge
1 night with breakfast & dinner (per person, tax included)
1 Adult : JPY10,000 (effective from 01 April 2015)
1 Child (4years – 12years) : JPY6,000
1 Minor (under 3years) : include meals JPY2,000/exclude meals FREE
Activities (Basically our guest only, visitors will not allowed. Thank you for you acknowledge)
☆Some of are not acceptable due to COVID-19☆
Stand-up Paddle Boarding
Rental fee : Board with Paddle
2 Hours – JPY3,000
Full day – JPY6,000
wet suits – JPY1.000
PADOBO Authorized instructor : Yoshihiro Yanagisawa
Beginners lesson will be offered however this is your own risk at open water.
Fishing
Half day Boat Fishing :
JPY8,000 per person (includes beverage, ice,fishing rod ,bait, insurance)
Rental fishing rod : JPY1,500 per day
Boat charter Fishing :
For jigging or lure fishing ; include insurance only exclude ice, beverage,lunch box
Charter fee per person as bellow
Up to 2HRS – JPY5,000
Up to 4HRS – JPY8,000
Up to 6HRS – JPY10,000
Cruising (approx 1hr)
Sunset cruise :     JPY2,000 Adult JPY1,000 child (4-12)(includes beverage, insurance)
Star watching cruise :     JPY2,000 Adult JPY 1,000 child (include beverage, insurance)
Bay cruise :                    JPY2,000 Adult JPY1,000 child (include beverage, insurance)
Whale Watching Tours (Operates : Jan – Mar)
☆Suspended due to COVID-19, Effective 2021 JAN – MAR☆
JPY6,000 Adults , JPY3,000 Children(4-12), Infant free (include beverage, insurance)
Minimum person for operates : 3 person
Trip length : approx 3 hours
Hydrophone equipped to hear the whales communicating
:*Important notice* : Should you not see a whale case, NO REFUND tour fee, due to whales are marine wildlife.
<h3>SCUBA Diving
Discover Diving (experienced dive master : approx 3-4 hrs)
all programs include full rental gear, lecture fee, insurance
From Beach : JPY13,000
From Boat :   JPY15,000
Half day Snorkeling tour (includes beverage, insurance)
Beach snorkeling :   JPY4,000
Boat snorkeling :     JPY7,500
Night snorkeling :    JPY5,000 (include flashlight)
☆all tour include rental mask/fins/snorkel, exclude wet suits rental)
Rental gear
mask, snorkel, fins, boots full set : JPY1,500/day
mask, snorkel, fins, boots each rental : JPY500/day
B.C.D. : JPY2,000/day
regulator : JPY2,000/day
wet suits : JPY1,000/day
B.C.D., regulator, wet suits full set : JPY5,000/day
All full rental set : JPY6,000/day
underwater flashlight : JPY500/day
PADI OPEN WATER DIVER LICENSE course
JPY65,000 : includes full rental gear, text book, application fee, insurance
INSTRUCTOR
YOSHIHIRO YANAGISAWA
No. 811862
Advanced Open Water Diver License course : JPY25,000 plus fun diving fee
Rescue Diver course : JPY60,000
Emergency First Response course
For emergency rescue procedures with C.P.R. and how to use A.E.D.
JPY20,000 : includes text book, application fee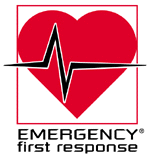 INSTRUCTOR
YOSHIHIRO YANAGISAWA
No. 811862
Access
From main land Japan to Amami O'shima main Island
Air
Tokyo – Amami O'shima (direct flight 2hrs 30min) alternate route via Osaka/Kagoshima/Fukuoka
Osaka – Amami O'shima (direct flight 1hr 30min) alternate route via Kagoshima/Fukuoka
Kagoshima – Amami O'shima (direct flight 1hr)
Fukuoka – Amami O'shima(direct flight 1hr 20min)
Okinawa – Amami O'shima (direct flight 1hr10min)
Operated by Japan air lines, for more details http://www.jal.co.jp
Peach Aviation flights operate Narita/Kansai v.v. Amami Oshima as LCC
Sky mark airlines operates Kagoshima-Amami Oshima v.v.
Sea
Tokyo – Naze ( via Shibushi)
Kobe – Osaka – Naze
Kagoshima – Naze
Operated by A-line, for more details http://www.aline-ferry.com/
Operated by Marixline, for more details http://www.marix-line.co.jp
Amami O'shima main Island to Kakeroma Island
☆Public transportation☆
– Airport/Downtown Naze ⇒ Koniya by bus –
From Amami O'shima airport to Koniya by Bus via Naze
Amami O'shima airport to Naze (approx 50min JPY1,100)
Naze to Koniya (approx 1hr45min JPY1,550)
Operated by Shima-Bus co.Ltd. : phone 0997-52-0509
Unlimited Ride Bus Tickets available, please refer to http://shimabus.jp/rosen/rosenpasutop.html
– Koniya ⇒ Kakeroma Island –
Ferry
Koniya port ⇒ Seso port (approx 25min)
Fare : JPY360(one-way) adult , JPY180(one-way) child
Scheduled departure
Koniya – Seso 7:00, 10:20, 14:00, 17:30 4-departures in a day
Koniya – Ikemma 8:10, 11:40, 16:00 3-departures in day
*Kakeroma ferry has 2 routings Koniya-Seso v.v. and Koniya-Ikemma v.v. please be careful*
Best routing to Shibiranka is Seto port.
Tickets are available at Umino-eki near Ferry pier.
※Important Note
Ferry sometimes cancelled by weather conditions, strongly recommend to
check operation
for more details and reservations Kakeroma Ferry 0997-72-3771
Private charter boat
Koniya port ⇒ Seso port (approx 15min JPY4,000)
Koniya port ⇒ direct to Satsukawa pier (approx 30min JPY7,000)
(Private charter boat fare is per boat, share with 5 or more person is reasonable and cheaper than Ferry)
Boat contacts :
Amami marine taxi 0997-72-4760
Setouchi Private boat union 0997-72-0377
Koniya Private boat union 0997-72-0322
– Seso port ⇒ Shibiranka –
Kakeroma Bus : (approx 25min JPY550)
Should be awaiting at Seso port upon arrival Kakeroma Ferry, please take the Bus with destination to "SANEKU"
*** tip , tip , tip ***
Please tell the bus driver you will get off at SHIBIRANKA, the Bus will stop in front of Shibiranka !!
Kakeroma Bus : phone 0997-75-0447
!! Be Careful !!
**** NO-Taxis are available on Kakeroma Island ! Also no scheduled Buses other than the ones connecting to the Ferry ***
Rent a car or Bicycle
From Amami O'shima airport or Naze ⇒ Koniya
Take Route 58 heading south destination to Setouchi or Koniya.
When you are in downtown Koniya, please take a route to Umino-eki near by Koniya port.
Koniya port ⇒ Kakeroma Island (Seso port)
Kakeroma Ferry
Rent a car will be able to board the Kakeroma Ferry and tickets are available inside Umino-eki .
Vehicle:3m-4m one-way JPY3,130, round-trip JPY5,950
4m-5m one-way JPY4,720 round-trip JPY8,970
Round-trip valid 2days includes driver fare
(Bicycle one-way JPY130 exclude rider)
Please make a reservation in advance : Kakeroma Ferry phone 0997-72-3771
Seso ⇒ Shibiranka
Make a right turn from the port area then take Route 614 heading northwest to "SATSUKAWA". It will take approx 25min to drive.
When you approach Satsukawa you will find "Satsukawa Junior high school" on your right hand side. Make a right turn alongside the school then drive along the sea side for approx 300m, Pass through "Satsukawa Elementary school" left, and you will find a big tree to the left up ahead you will see "SHIBIRANKA"
Staff
Owner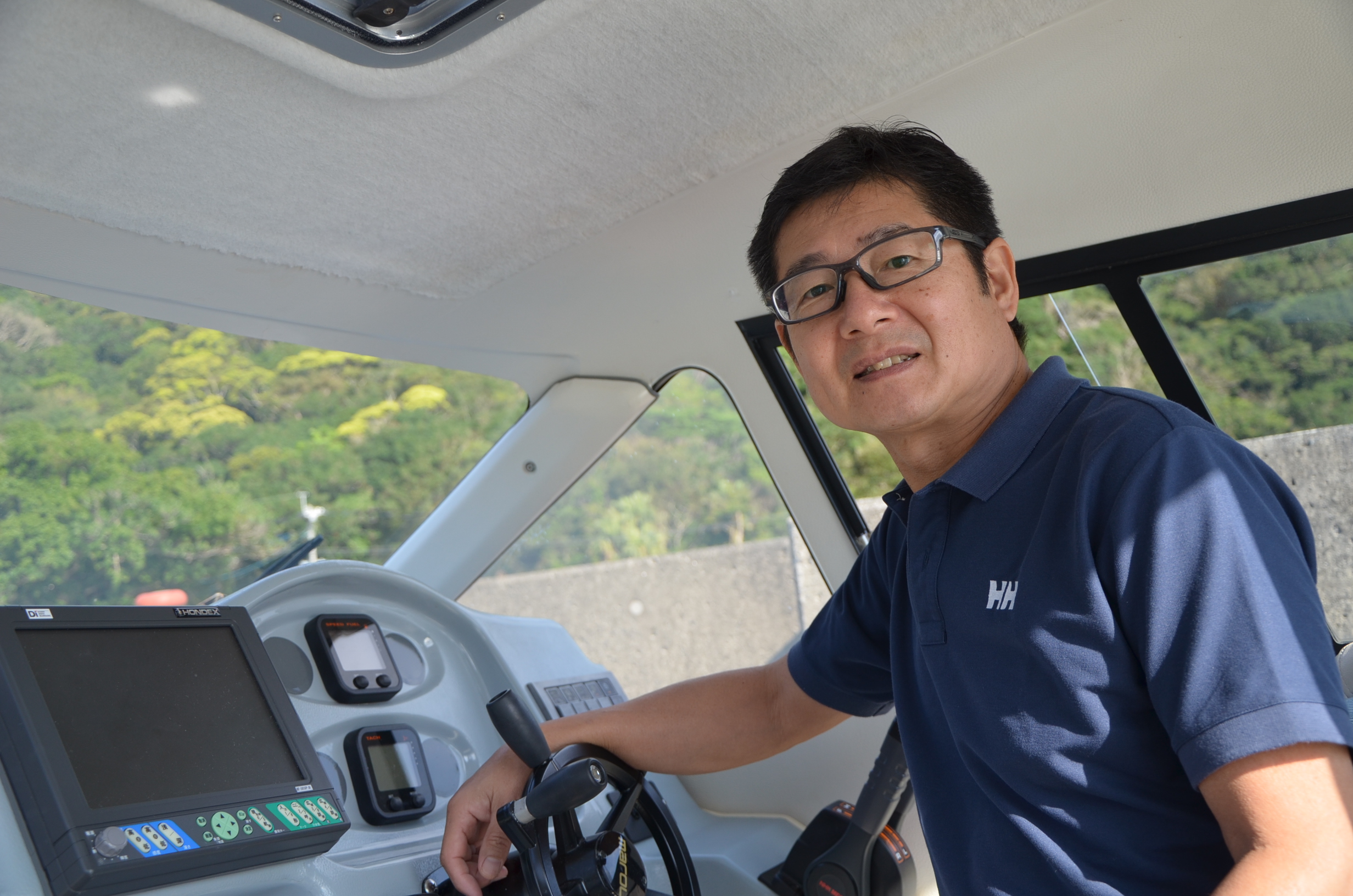 Yoshihiro Yanagisawa
Born in Tokyo 1959.04.06
Blood type :B
Former U.S. carrier AA employee.
PADI open water scuba instructor.
(PADI OWSI No.811862)
Certified professional diver.
(License No.12034730441)
In 2008, abandoned Tokyo's city life with early retirement moved to wife's home Island of Kakeroma.
Fluent English speaker but not very good at Island dialect.
Used to be a big motorcycle KAWASAKI GPZ900R Ninja and YAMAHA 1300XJR rider, but now steers a boat around O'shima strait.
Owner's wife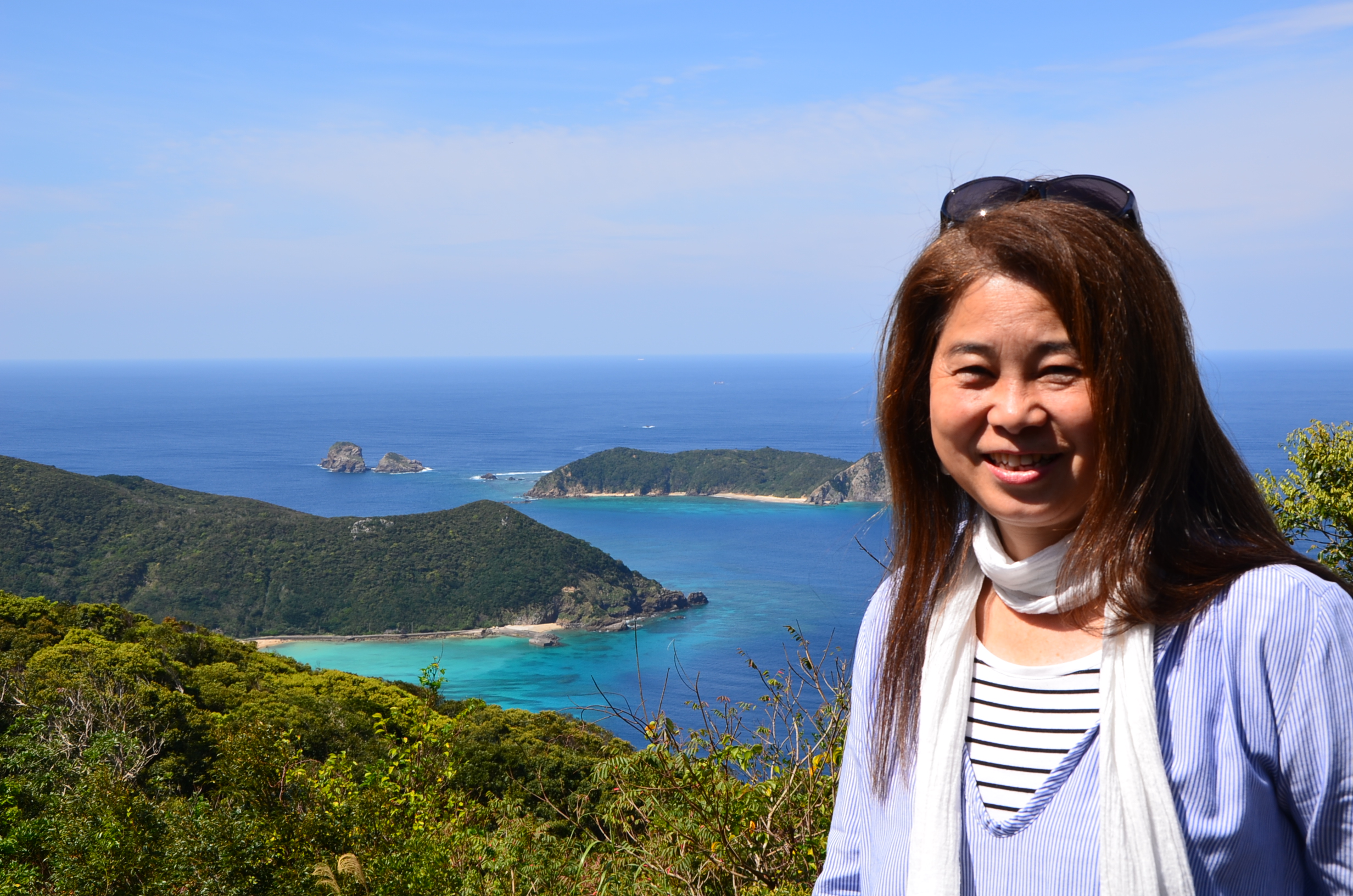 Shigako Yanagisawa
Born in Kakeroma Is. 1959.08.28
Blood type :A
Affiliated Financial Planner.
An expert in inheritance, finance, tax, life planning, real estate and
insurance.
You can ask her anything related to financial problems while you are staying at Shibiranka.
Representative of "Shirita munkya" local Island herb tea products
lonesome cat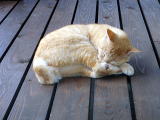 BOO
A stray cat from the neighborhood village.
He is capricious but fawning.
He passed away Dec 2013 ☆my sincere condolences.
Special thanks to
Capt. Toyoshima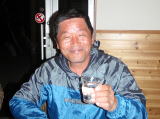 Captain Toyoshima of the Toyoshima-maru is a reknowned Amami fisherman.
He always graciously supplies extremely fresh fish to Shibiranka.
A Master Carpente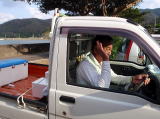 He built Shibiranka and Shibiranka's godfather.
He is not only a carpenter but also a master of an Amamian traditional game (NANKOU).
Let' try it !
Yamamoto-maru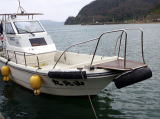 A fishing boat of SHIBIRANKA
21 feet and cruising speed 21 knots.
SHIBIRANKA
Shibiranka's new cruiser boat inaugurated from 01Jul 2016
SPEC : 26feet, 12passengers, 200ps outboard engine, max cruising speed 30knots